Advanced, Painless & Skin Friendly Laser Treatments
Pre-Peeling
Blemishes & Pigmentation
---
Blemishes & Pigmentation With Facial Peeling :
Blemishes are skin imperfections like acne-marks, pigmentation marks and dark spots. Blemishes are usually caused by oil-clogged pores and stress. Skin Blemishes spoil your looks. Most of the teenagers have acne and skin blemishes on face at some point of time during their lives. Many of the adults too have facial blemishes.

So We have a treatment availble i.e pre-peeling.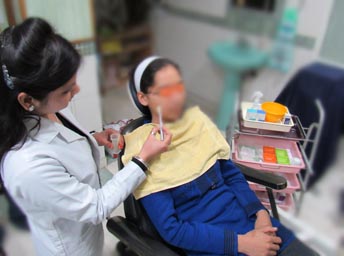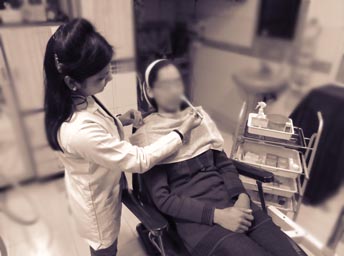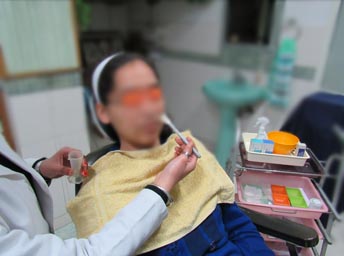 Chemical skin peels are an adaptable skin treatment which are used at Elegance as a method of resurfacing and regenerating clients skin. A chemical skin peel removes superficial layers of skin to reveal a fresh, smooth, younger dermis and stimulate collagen remodeling. They can positively address issues such as hyper-pigmentation, fine lines and wrinkles, congestion, acne and scarring. They can treat conditions for corrective skin programmes, maintenance treatments or can be used for a instant radiance boost.
They can be used alone, or as part of a combination of other treatments and/or products. Through your consultation and skin analysis, a peel will be chosen and tailored to your individual needs to benefit your skin type. Various depths of peeling can be achieved with different products. Although you will be advised on what skin peel will suit your skin some details about the most common peels are below.
Benefits of chemical peels:
Removal of dead skin cells, revealing a bright, radiant complexion.
To instigate skin-cell turnover, allowing keratin and collagen to be stimulated.
Breakdown pigment.
Deep clense to remove pore congestion.
Smooth and refine the skins surface.
Re-build scarred tissue.
Tighten and firm - to smooth out lines and wrinkles.
Reduce inflammation and restore the barrier function of the skin.
Chemical peels can improve the appearance of skin hyperpigmentation issues such as age spots, melasma and discolorations from acne scarring. The procedure, which uses a mixture of acids to exfoliate the uppermost layers of the skin, can be performed on the face, neck, chest and hands. Benefits from a chemical peel will vary depending on the level of aggressiveness administered.

Varieties
Chemical peels are delivered in three levels of potency: superficial, medium and deep. A superficial peel uses mild alpha or beta hydroxy acid to exfoliate the surface layer of the skin. This kind of peel can improve mild skin discoloration or blotchiness. Bleaching agents such as hydroquinone or kojic acid are sometimes incorporated into a superficial peel to further address excess pigmentation. A medium peel uses a stronger concentration of glycolic or trichloroacetic acid to reach the epidermis and the upper layer of the dermis. A medium peel can correct age spots, freckles and moderate discoloration. A deep peel uses phenol to penetrate the dermis, which allows it to address more significant discoloration issues.
Blemishes Pigmentation With Facial Peeling: