Advanced, Painless & Skin Friendly Laser Treatments
Tattoo, Birth Marks, Freckles, Dark Eye, Hyper Pigmentation
---
Tattoo Removal With Q-Switch Laser:
Switched Nd:YAG laser This laser has a filter that emits a wavelength of 1064 nm. This creates a near-infrared light (invisible to humans) which is poorly absorbed by melanin, making this the only laser suitable for darker skin. This laser wavelength is also absorbed by all dark tattoo pigments and is the safest wavelength to use on the tissue due to the low melanin absorption and low haemoglobin absorption. This is the wavelength of choice for tattoo removal in darker skin types.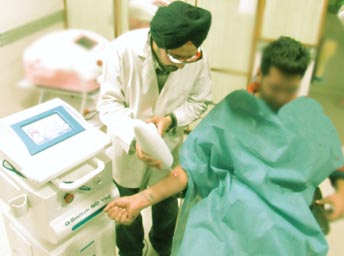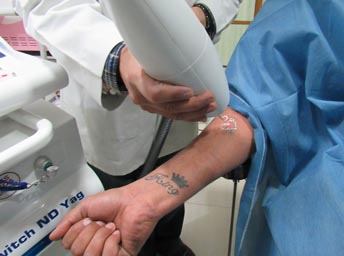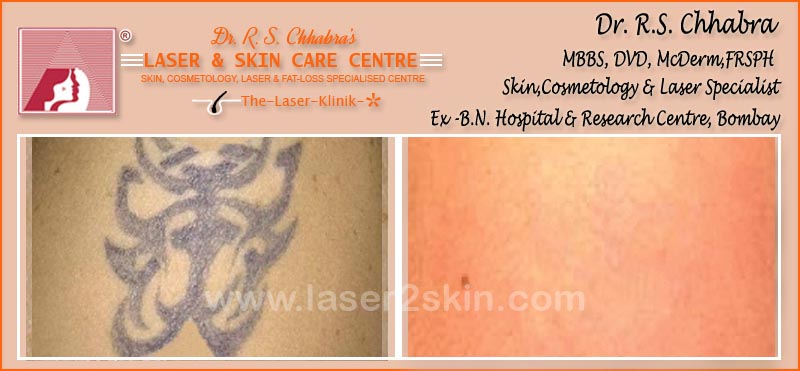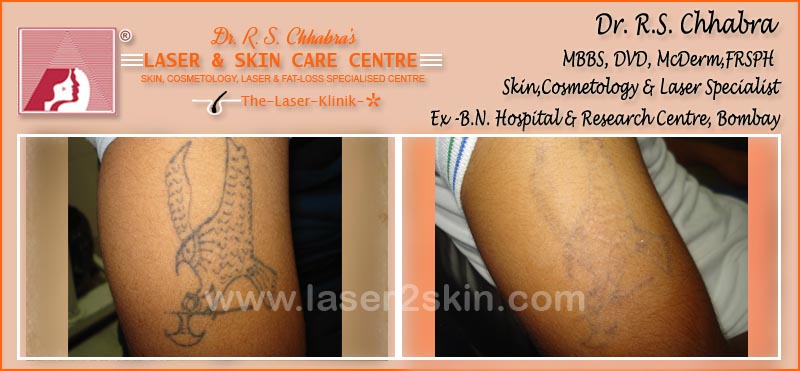 Birth Marks Treatment With Q-Switch Laser:
The major advantage of Switched Nd:YAG laser laser is its amazing efficacy and safety in tackling all kinds of birthmarks. It is more advanced in comparison to other available lasers in the market as it delivers high powered laser beams facilitating very precise and better skin penetration yielding exemplary results, yet not compromising on the safety. It works well on all kinds of tattoo inks, irrespective of the size and depth of tattoos. So time to say goodbye to your unwanted tattoos and birth marks and all you require is few sittings of laser to dissociate yourself completely from your past!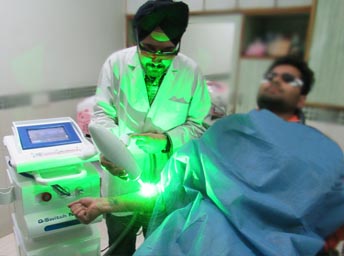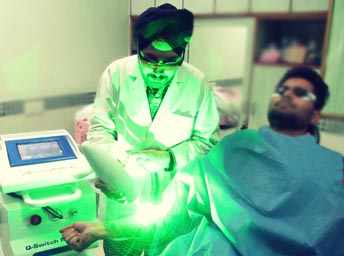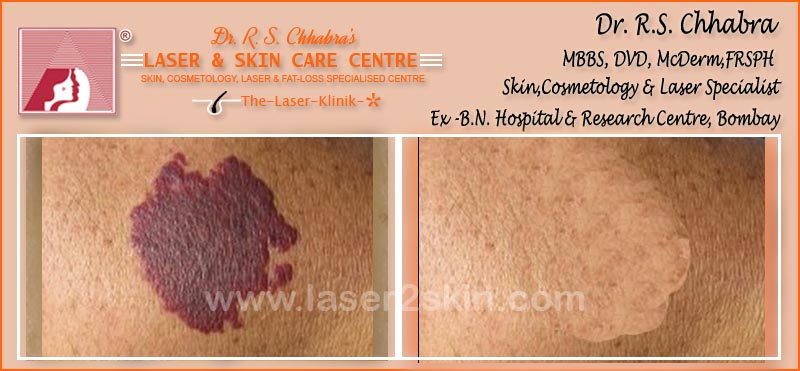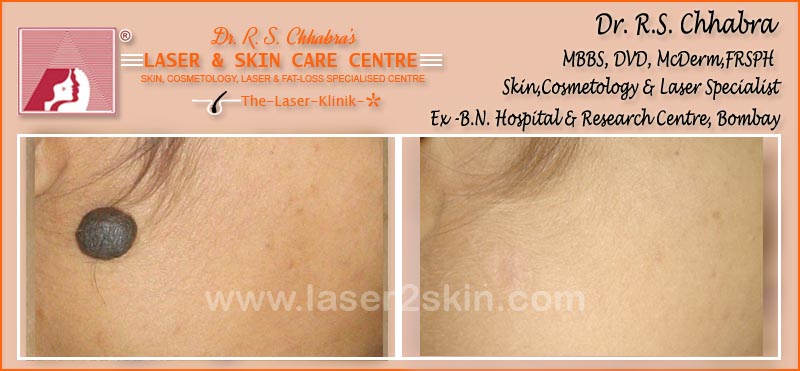 Freckles Treatment With Q-Switch Laser:
Freckles are multiple, flat, spots on the skin due to uneven distribution of melanin (skin pigment) in those areas. They are usually around the size of a matchstick head, and are reasonably uniform in colour. They are usually situated on sun exposed areas of the skin, including the face, neck, arms and shoulders and usually darken after sun exposure. Usually, freckles start to occur at a very young age. Freckles most commonly occur in people with lighter or fairer skin types, and in those who have a genetic predisposition to developing freckles.
The best thing about freckles is that they are highly treatable with lasers. The treatment usually ends with a highly satisfactory result. SO please check our results of Q Switch Yag Laser.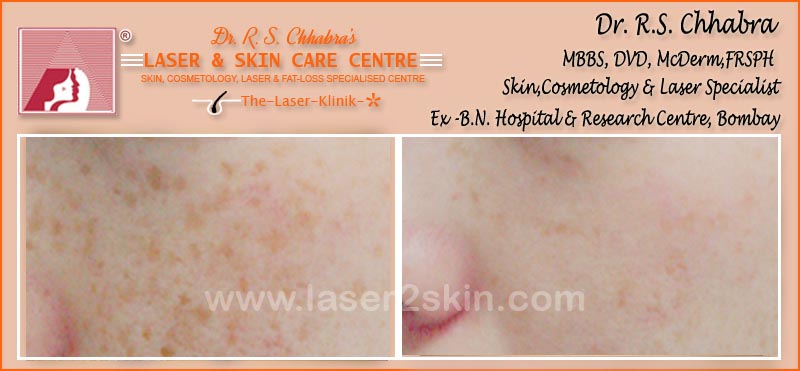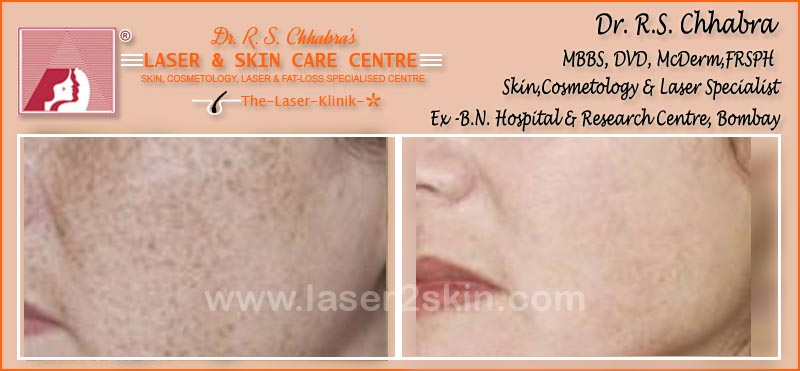 Dark Eye Treatment With Q-Switch Laser:
here are commonly two types of dark circles:

1. Blue
2. Brown/black
The Blue circles are formed due to pooling of oxygenated blood in under-eye skin. As skin on this part is very thin, so blood shows through. However brown/black dark circles are most commonly found. They result due to hyperpigmentation of skin around the eye.
They can be caused by a myriad of factors:


1) Heredity
2) Lack of sleep
3) Atopic diasthesis - sinus disorders, asthma
4) Allergies
5) Anemia
6) Medicines put in the eyes for glaucoma etc.
7) Immune disorders like dermatomyositis
8) eye strain due to insufficient sleep, long hours of computer work, etc.
9) Under eye volume loss and wrinkling due to aging, drastic weight loss
10) Hormone related disorders like acanthosis nigricans
So We have Q-Switch Laser for Dark Eye Removal.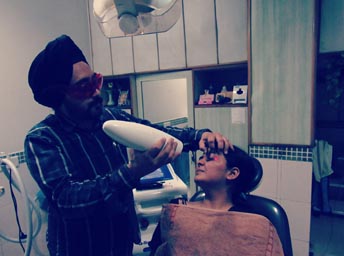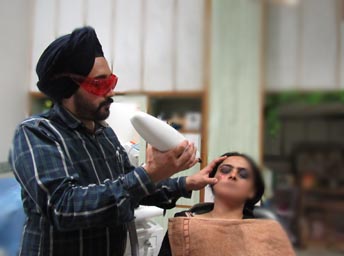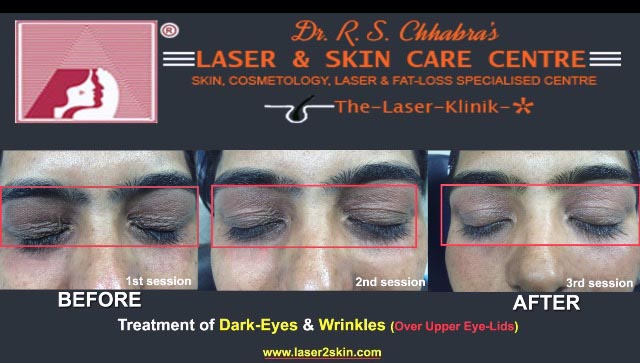 Hyper Pigmentation With Q-Switch Laser:
Skin hyperpigmentation is usually caused by excess production and/or clumping of the skin pigment 'melanin' with the appearance of darker brown or even black spots on skin. Pigmented lesions can be classified either based on location of pigment as epidermal and dermal, or based on causation as nevoid, hereditary, or acquired - drug induced, postinflammatory, hormonal, etc. - and the treatment depends on the underlying cause. Various topical applications, chemical peels, microdermabrasion, etc. have been used with variable benefits. However, lesions like nevus, tattoos, freckles, etc. are not amenable to the above line of treatment.
So We have Q-Switch Laser for Hyper Pigmentation.