Advanced, Painless & Skin Friendly Laser Treatments
Laser Hair Removal / Reduction
---
Remove unwanted hair (face & all body parts) for Ever :
Safe, Quick... Without pain & side effects
By World's class, Ultra Long Pulsed & High Powered latest Diode Laser system with American & German Technology... proven its efficacy over other laser systems available.
Imagine not having to shave, tweeze, wax, bleach or endure the tedious process of electrolysis again. Now put an end to such messy methods. Laser hair removal /reduction requires the skill of highly trained skin practitioners and dermatologists. Equality important is the fact that there is a generally lack of clarity about laser hair reduction so this leaflet is designed to clarify questions regarding effectiveness and safety.
What is laser and how Diode Laser systems works?
Laser is actually a light of a fixed wave length & monochromatic. The Diode Laser treatment is soft & virtually painless. The 810nm beam is absorbed by the pigment in the individual hair, resulting in heat generation at hair roots . The heat 78°C at hair root destroys hair follicle without affecting the skin. There is no further hair growth from destroyed hair root.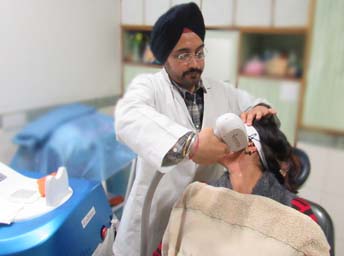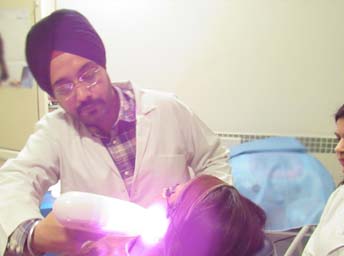 Why skin is not affected?
Ultra long pulsed Diode Laser system is the only systems in the world where contact cooling system is in the hand pieces preventing epidermal skin burn.
How do one select the right laser technology?
It is best for one to select a well-recognized, well equipped clinic that offers you services customized to the Indian skin type (skin type IV & V ). Here at our centre Diode technology is used which is universally accepted as best suited for the Indian skin type.
What special precautions needed before treatment?
It is important to remove hair by eplitation or waxing & to avoid sun tanning 2-3 weeks before the treatment.